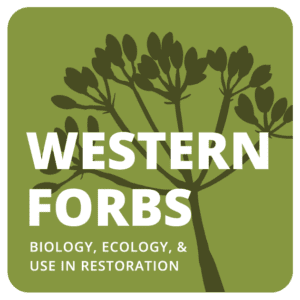 The Western Forbs: Biology, Ecology, and Use in Restoration project is now a website.
Westernforbs.org is designed to aid seed collectors, seed growers, nurserymen, landowners, restoration practitioners, and land managers as they increase the supply and use of native forbs.
Species menu tab – Offers complete reviews that synthesize existing research and practical  experience available for western forb species. Anything reported on the biology, ecology, seed technology, and use in wildland restoration is included.
Lookup Table menu tab – Summarizes forb species data in a searchable and filterable table. Included are the data on taxonomy, distribution, biology, ecology, seed supply development, and nursery and wildland restoration knowledge for each species.