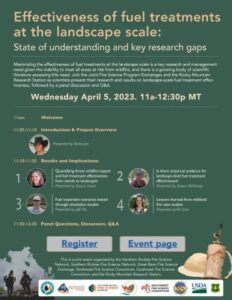 Webinar registration.
A recent report, Effectiveness of fuel treatments at the landscape scale: State of understanding and key research gaps, provides key findings from four literature synthesis documents (concepts and fuel treatment effectiveness measurements, empirical, simulation, and case studies) that evaluate the extent to which landscape fuel treatments mitigate adverse effects of wildfire, provide opportunities to manage fire for beneficial effects of wildfire, provide opportunities for cost efficient fire suppression strategies, maximize fire responder safety, provide results to inform future fuel treatment planning, and identify research gaps.
Join the Joint Fire Science Network and Rocky Mountain Research Station for the Landscape Fuel Treatment Effectiveness webinar on Wednesday, April 5 from 11:00 – 12:30 MT.
Four Rocky Mountain Research Station scientists will present their latest research followed by a panel discussion and Q&A.
Lessons learned from wildland fire case studies | Ali Urza, Research Ecologist
Quantifying forest wildfire hazard and fuel treatment effectiveness from stands to landscapes | Sharon Hood, Research Ecologist
Fuel treatment scenarios tested through simulation studies | Jeff Ott, Research Ecologist
Is there empirical evidence for landscape-level fuel treatment effectiveness? | Shawn McKinney, Writer/Editor